Oh my goodness I still can't believe it! I won a contest through the company we purchased our website through (
Blu
) and I'm going to Vegas, baby!!!!! Wooooooooo-hooooooooooooo!!!!!!!!!!!!!!!!!!!!!!!!!!
I am going to get a chance to shoot with celebrity photographer Bob Davis! (He shot Eva Longoria's wedding, Eddie Murphy's wedding, and Oprah's Legend Ball!)
I am going to be able to learn a ton and be around great people all while shooting a dream wedding and day after session!
I am so excited I don't think I will be able to sleep tonight! Who cares though? CUZ, Im goin' to Vegaaaaaas! Whoop, whoop! :)
For the entry you had to wear your favorite wedding attire, (you can't really tell, but I am wearing a cocktail dress), you had to draw a red heart on your cheek, and there had to be a single stem rose in the picture. There were nearly 400 entries!
Here is the winning announcement: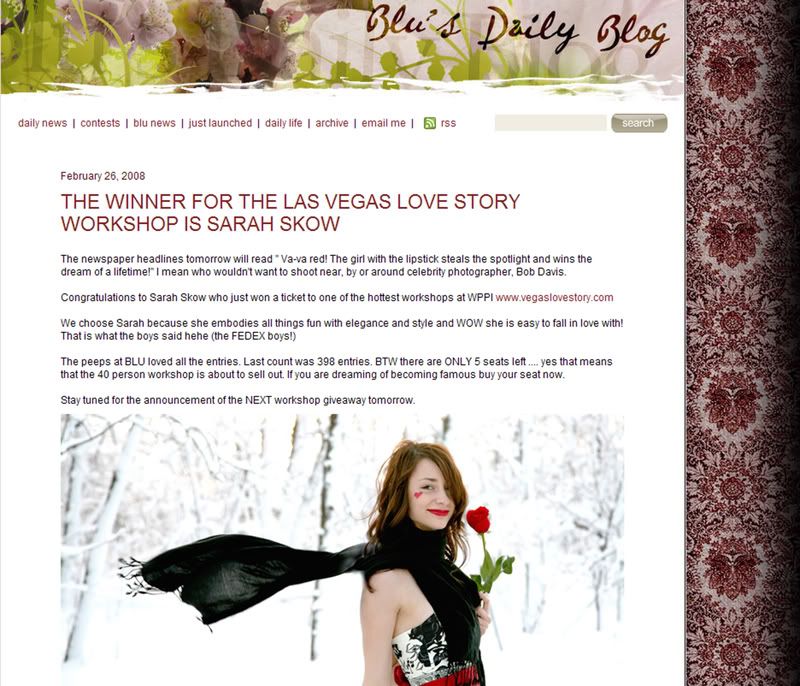 Okay, just one more time......yaaaaaaaaaaaaaaah!!!!!!! :)
Thank you so much Blu!!!!!!
-S